Alberta Referees Association Information and Clinic Dates
---
---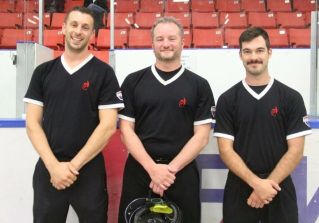 ---
Entry/Level 1 - New officials, referees with one to 2 years experience. (Must turn 14 by Dec 31,2019)
$65.00 registration fee
**New officials will need to purchase a jersey and whistle when signing up for a clinic**
Level 2/3 - Officials with 2+ years experience, and at least 16 years of age, as well as newer level 3 officials (Must be 18 to advance to Level 3)
$115.00 registration fee
Level 4-6 - Provincial super clinic for experienced ALRA officials. This is for veteran level 3 officials and up.
$150.00 registration fee
NEW **All officials over the age of 18 must complete a criminal record check through the carrier provided by the ALRA. An email will be sent out the Tuesday before your clinic requiring you to do so, officials will not be added into Arbiter until this step has been taken. Fees associated with the criminal record check are to be paid by the official, no paper copies will be accepted.**
Officials are able to purchase equipment while registering for a clinic, if you miss this step and require equipment after all shipping fees will be charged to your ramp account.
CLA RuleBook - $15.00 (Automatically added to each registration)
CLA Jersey - $45.00
Fox40 Whistle - $15.00
OGIO Referee Bag - $65.00
ALRA Golf Shirt - $10.00 (until supplies last)
Any other equipment needed to officiate (black pants, black running shoes, black helmet) can be purchased from any sporting goods store.
Below are the list of clinics we have available
GELC (Edmonton)
March 17th, 2019 - Level 2/3 - GELC Office
March 23rd, 2019 - Entry/Level 1 - GELC Office
March 30th, 2019 - Entry/Level 1 - GELC Office
April 13th, 2019 - Level 2/3 - GELC Office
**April 13th/14th, 2019 - Entry Level - On-floor Training (TBD)** MANDATORY
ALRA Uber Clinic - Invite Only
April 5th-7th, 2019 - Level 3-6 - Okotoks Rec Centre (Okotoks)
Registration closes on the Tuesday before each clinic date, to Register click here or visit www.albertalacrosserefs.ca under clinics section. Any questions or concerns please email raymond@albertalacrosse.com. Look forward to seeing everyone on the floor this season !